Back In the Saddle – Battle Diaries – Pokémon TCG Season '23/24' League Challenge
By Elijah Douresseau
A new TCG/VG season is here, as we saw very established lists from the last 4 to 8 months dominate the Worlds show floor. Electing to play with what has proven to be far from obsolete seems to have emboldened players to stick to the top-tier deck lists that have gotten countless hours of playtime and have adapted to specific key matchups.
I'm excited about the new season. There are plenty of decks to make and try out, and the oldies at this point – Mew, Lost Box, Arceus variants - have stronger opportunities to hang around because the support from new sets allows them to maintain their viability in a meta where a lot of decks can be visible – even if only momentarily.
I attended a Challenge this weekend that had a healthy turnout to it. A good thirty players, from junior and master divisions, duked it out for their chance at 15 CP and sufficient Obsidian Flames prizing. Of course, since this was a premier event, the third Scarlet and Violet set was not allowed for play.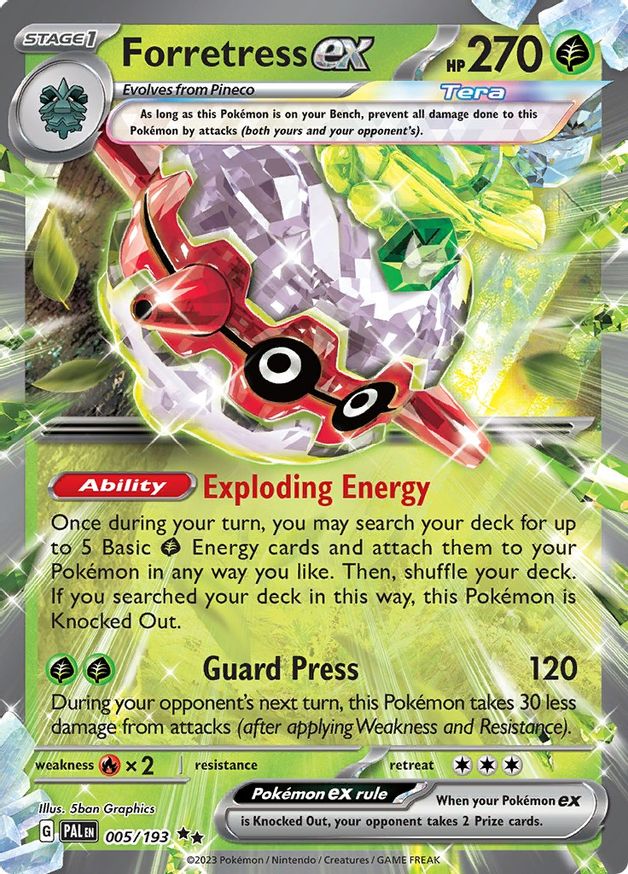 My Wo-Chien and Forretress ex deck had been getting some good hours at locals, as my new competitive deck, so I thought it fitting to see how much it could ramp up at something like a Challenge. It's effectively quick because of Forretress' aggro Exploding Energy ability. Wo-Chien then can take ohkos on most of the basic Vs in format, dealing 220 for four energy. Its Covetous Ivy attack is also great for revenge sniping on the bench (since you'll likely be down two prizes to start your matches), dealing 60 damage for every prize card your opponent has taken.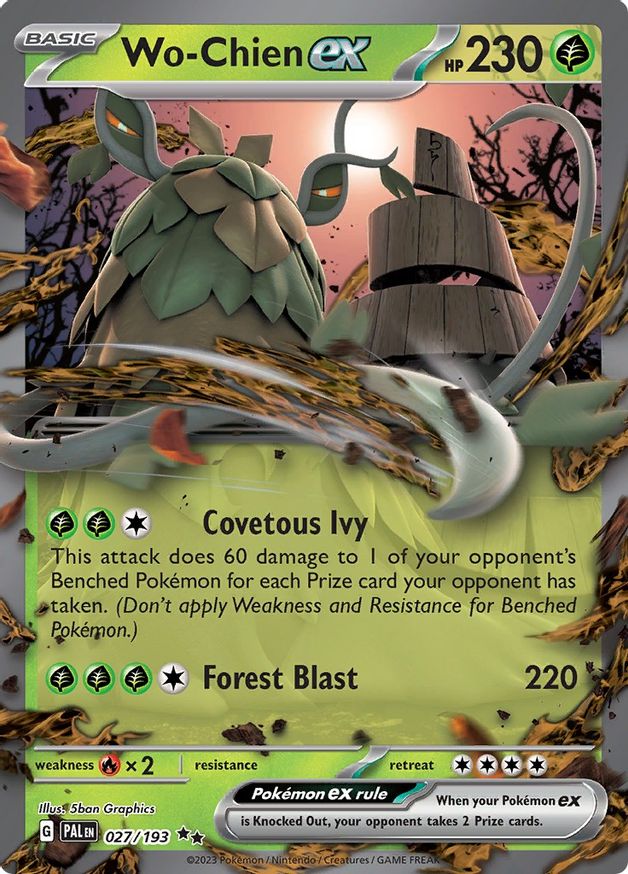 Since I started piloting Wo-Chien, it's proven itself to keep up with Chien-Pao. It also is beefy enough to stay consistent against Mew and Lost Box. Thankfully, Genesect can still get ohko'ed, despite the grass resistance. And with the right snipping approach, Lost Box can be a tad slow setting up against the knockouts.
Onward to the Challenge:
R1 – Arceus Box:
This first match was a bit of a warm-up, unfortunately. I was able to get a decent amount of starting basics but my Alolan Exeggutor V's Growing Tall was not hitting, which is usually my way around not going first, to set up the Forretress' Exploding Energy the following turn. And after I tried to disrupt my opponent's hand with a Judge for my very first supporter for the game, I ended up hurting myself with dead draws for the rest of the match. In true Arceus fashion, my opponent's deck was pretty comfortable setting up and taking KOs by turn two. Loss
R2 – Arceus/Duralodon:
Another tried and true Arceus list that I was able to set up against much more effectively this time. I even got Exploding Energy to activate on my second turn. We had a good back-and-forth but I didn't have enough attacking power to take down a few Arceuses and a fresh Duralodon that had been set up midway through the match. Loss
R3 – Palkia/Chien-Pao:
This match was a bit more comfortable. I got a Growing Tall to hit on my first turn (going second) and we had a spectacular bout of strategizing our knockouts. My opponent's list did not contain Baxcalibur – which though is a great card on paper, can create some liabilities on the bench and clunkiness with effective drawing support. Even with Chien-Pao thinning the deck out with Shivery Chill. He brandished a Starmie V midway through the match – which can definitely hurt the energy guzzlers on my side of the board. I was able to disrupt his hand down to 1 with an Iono, on what ended up being my final turn. There was enough of an opening to stall and set up Covetous Ivy to take out a weakened Palkia on the bench, but as Pokémon fortune would have it, my opponent drew a Boss for his one card and ended the game. Loss
R4 – Giratina Lost Box:
By this time, I was still feeling good about Wo-Chien. I was mostly having quality matches, despite the losses. That always feels like the minimum stage you want your deck to be in, even if the wins aren't frequent. That only meant they would come eventually and I just had to keep playing my games. Giratina is an easier matchup for Wo-Chien because it can work a little faster to set itself up and get the easy KOs on Giratina V. In addition, for this particular matchup, my opponent's list was not quite clicking. After I took three prizes, well set up with multiple attackers, he got the Giratina VSTAR in play. Star Requiem was also online. He misplayed some energy attachments though, with Mirage Gate, anticipating his playing on the back foot for the remainder of the game. He conceded shortly after. Win
R5 – Lugia:
Lugia has taken a bit of a backseat in the meta recently, but it can still prove to be useful, even if clunkier than before. I hadn't faced many Lugia decks with Wo-Chien, but between the slower setup, if the deck is bricking, and Tyranitar's grass weakness, I played to find those basic V ohko openings that could put me ahead. I got another Growing Tall to hit and sped up my setup faster than my opponent's turn-three Summoning Star. This match still ended up being fairly close, but I was able to Boss Tyranitar and used Serperior VSTAR's Star Winder power for the game. I only needed two grass energy to capitalize on the grass weakness. Win
I'm definitely looking to expand the meta scene a bit more with the Obsidian cards. I don't know how many pure decks the set will bring forth, outside of Charizard, but with the support of cards like Pidgeot ex, the Rhyme supporter, and the Letter of Encouragement item card, Trainers should be able to integrate OBF cards fairly easily.
Let us here at tSn know how excited you are for the new season and what decks you're looking forward to putting together. And as always, may the spice shenanigans ever be in your favor.